Being a digital marketer means working with people, processes, and tools. In today's browsing era, you cannot leave behind Add-ins or Extensions – Your Digital Toolbox.
This post is all about 15 Chrome Extensions every Content Writer must use in their content curation journey. 
You cannot deny the fact that we are living in the era of tools. Tools like Chrome Extensions help you to stay focused and make informed decisions for your customers and be productive. 
Carrying a list of digital toolbox makes your content life easy. 
15 Best Chrome Extensions for Content Writers
First things first. How to add a chrome extension?
Adding an extension is just like installing an app on your mobile. Go to the Chrome extension web store and search for the desired one. 
Once you find the right extension, all you have to do is click on it. Viola, it is added to your Chrome browser.
Just like adding, removing them is also very easy. Just like a toggle on and off button, you can disable extensions anytime. 
Why Chrome Extensions? 
Just like how people's attention span is decreasing, we are living in a generation that needs
Instant Delivery 

Instant Gratification

Instant Payment

Instant Update

Instant Upload

Instant Booking

Instant Cooking

Instant Loan

Instant Home Remedies

Instant payout
Why specifically only Chrome? Of course, it is a by-product of Google. Significantly, Google is the king of all the browsers and search engines.
Stats says that more than 74% of the people prefer to use Google Chrome on their laptops and Mobiles. So, I'm going with the larger crowd. 
Being a content marketer, it is important to set up a process with a lot of functions and features. 

It will add tremendous value to your content stack and helps you to be productive in any day. 
Similarly, you need to be quick in delivering to your clients. In order to deliver quickly, you need to get hang of certain processes and tools that enable you to work successfully with people.
You can ask me whether do you have to pay for Chrome extensions?
Absolutely not. In 2021, Google made all Chrome extensions free.
Save the below image for reference anytime, anywhere. 
If you are into content writing, then you cannot miss the very first, time-saving extension for making your writing grammatically error-free. It is your online helper and huge time saver. 
As I'm writing, Grammarly was like my teacher highlighting all the spelling, punctuation, and grammar structure mistakes I was making unconsciously. 
Why Grammarly
First, the free version is more than sufficient for writers who are starting with creating content.

Right from grammar and spelling to style and tone, it helps you eliminate writing errors and find the perfect words to add more readability to your content. 
The best advantage is that you'll get real-time updates from Grammarly on any social Application you use. I would say everywhere else where you find yourself writing online. 
Lastly, the Pro version is highly recommended as it provides 400 types of checks including a plagiarism checker.
Additionally, it provides a personalized writing report each week to help you track your progress.
Headline Studio by CoSchedule 
Thinking of what title for your blog post is something I spend more time on. Indeed, it all starts with your blog title, right?
This chrome extension is specially designed for digital marketing experts to help them optimize their headlines.
The headline is the first piece of content that the audience sees. This plays an important role in increasing traffic.
Your blog post headline is like LOVE at first sight moment for your readers. 
It helps us analyze your blog titles and suggests keywords that can improve your SEO score. If you want to grab your audience's attention, then use Headline Studio without fail. 
The extension also compares your headline to provide a score that is worth trying. 
Eye-catching and influencing blog titles are the key ingredients for users to click on your link. Hence, don't neglect this little magic chrome extension. 
Most of the time, I find my browser with multiple tabs open cluttered, and finding it difficult to navigate. Have you faced such a situation?
Content Writing is all about 80% research, 10% writing, and 10% editing. 
As the name suggests, it helps you in your research process to store all your tabs in one file. 
Just Click the OneTab icon while using the chrome browser to convert all of your open tabs into a handy list. 
95% of memory can be saved as you will have less number of tabs open in Google Chrome.
A major feature is it allows you either restore them individually or all at once.
Out of all the video recording software, Loom proved to be very intuitive for screen recording.
This means that you can use it to create your demo videos and course videos with just a click of a button without any hassle. 
Why Loom Chrome Extension
Loom is by far the fastest, easiest way to record your screen. Most of the Tutorials are created by using this tool. 
The use cases of this tool are enormous. Firstly, from screen recording a product demo, course tutorials, providing feedback, or simply sharing your thoughts just like in Live videos. 
Enables automatically save your videos to the cloud and share them instantly with a link
Lots of editing features to make your videos stand out to the audience. The simple user interface makes it easy for anyone to create videos.

Design and Creativity in infographics go hand in hand. And for that, you need right FONT.
Most of the time, I come across beautiful content and wonder, where all these fonts are hiding on my laptop? 
The FONT type" plays an important role in digital and paper format content.
Fonts are universally identfied by content writers and content designers to highlight different events, actions, annoucements, speech, emotions, and emphasis.
It is especially helpful for the audience when they are looking for specific information.
You could inspect any web fonts by just hovering over them. As illustrated, it is that simple and easy to find. 
In content creation, the most difficult part is getting that 80% of the research part.
And most of the time, whenever you come across wonderful content, you have this double mind on where to bookmark, and how to refer in the future, right?
The problem is solved when you have "Save to pocket" –  Instantly save articles, videos, and more. 
Instantly, it can be your favorite recipes, memes you came across, beautiful quotes you read, videos that inspired you, content that triggered your thoughts, news from Buzzfeed, and so on. 
Four different ways to save the content
The first method – Click the Pocket button in the toolbar
The second method –  right-click a link and select "Save to Pocket"
The Third method – use the keyboard shortcuts: Ctrl+Shift+P (Windows), Command+Shift+P (Mac)
Lastly, you can install the Pocket app in your mobile. You can find app under any SHARE button. 
Ubsersuggest is a free plugin that provides an All-in-All SEO solution. Out of all the functions it provides, keyword analyzing is the most used feature. 
Once you install the Ubersuggest keyword research tool, all you have to do is go to Google, YouTube, or Amazon and perform a search.
Only 1% get on the Google first page. Hence, getting insights of the keywords and search terms is a huge time saver. 

The free version has limited search terms but the data it provides is worth trying. 
Quillbot &
Wordtune – AI Writers
AI is cutting-edge technology. Quilbot & Wordtune uses AI technology to assess your content and help you to create a clearer and more compelling writing style. Both these extensions help you to deliver faster and smarter. 
With the free version of Wordtune, you'll benefit from
You will get free suggestions for grammar check

The Rewrites feature allows you to paraphrase, modify the style and tone of the sentences
Wordtune's Premium version comes with added advantage with the provision for 
Word finder

Tone controllers

Length controllers

Smart Paste
Switchy
Are you aware that 95% of the time, people click on the article/ post link based on the Eye-catching Title, Meta description, etc?
Wondering what factors the other 5%? It is the eye-catching link that you share on the social network. Just like how you design your post, you can also design your Links. 
Obviously, with your own custom domain name itself. 
What you miss If you don't use Switchy Chrome Extensions
Share a link that is Eye-catching at first instance. With just two clicks, customize your boring and long links on the social networks

Edit the title, the description, and the picture, make your links more readable ad increase

Short links with retargeting Pixels – This enables you to target everyone who clicks on your links through Facebook, Instagram, Twitter, LinkedIn, Google Ads, Quora, Pinterest, etc.
Get analytics reports in real-time – Run AB Testing, smart ads, and efficient campaigns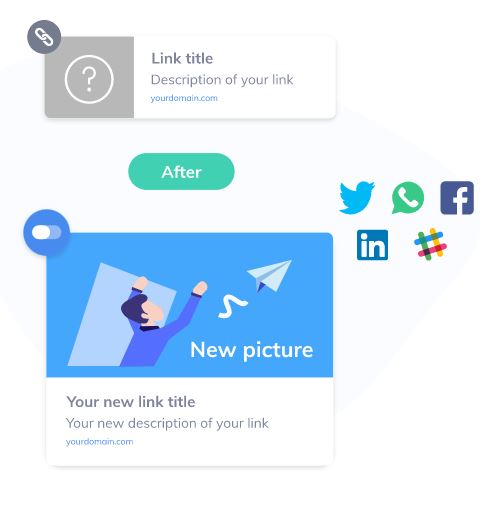 Having long, boring, tough-to-remember links in the social network is a big No. The huge space saver is Bitly. An URL shortener built to help you grow and protect your brand by using your own custom domain name.
A short URL can make your link more memorable. Think URL, Think Bitly. 
 A short URL also helps n creating your portfolio in an elegant manner. Sharing Bitly link also improves traffic to your content.
Not to mention, recently they have added creating QR codes for your link as well. 
In particular, with this chrome extension, you can
Shorten links with one click

Customize for click-worthy links

Generate QR Codes
Just working on your creation will not help you to stay ahead in SEO. At times, you need to know what your competitors are doing as well. What is Buzzsumoused for? Most commonly used by content writers to find everything and anything related to keywords and competitor content analysis. 
Being a cloud-based platform, it helps you to give a better engagement level for your blog content by providing suggestions on keywords, search terms, etc. used by your competitors. 
By the way, it offers 10 free searches a month in a free plan which is more than sufficient to get started. 
Why Buzzsumo
Do you want to know your competitor's website analysis?

Get the measure of your competitors in an instant click

Quickly get social engagement data for the page you're viewing, or for any other website.

Save tons of time on content research right from content strategy to content curation

Content Ideas Generator & see the most shared content for the current website 

Content Analysis Reports, 

Domain Reports & Influencer Searches

Backlinks Analyser – View backlink count for URL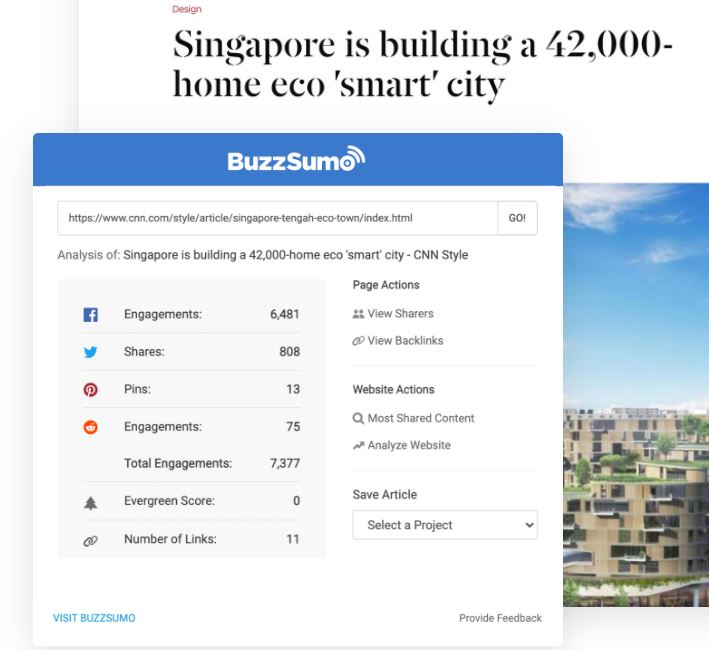 I was not aware of the impact of broken links untill I saw my SEO score going down in AHREF's audit report.
Do you know, Broken Links in your blog posts, are a BIG culprit in ranking your site.
Just like a quality inspection, check my Links is a Link Checker that inspects your webpage and looks for broken links. 
Broken Links is your blog post, BIG culprit in ranking your site. Do quality inspection every now and then. 
Checking all the links in our blog post manually is time-consuming. And, that's when Check My Links comes in handy. 
It highlights all the valid and broken ones, instantly for you to take ACTION. 
Just copy all the bad links in a single click. 
Feedly
There are two apps that I use for my daily dosage of news and trends. As a writer, you must be well-informed about the current news and trends in any niche you are in. 
It helps to write better content by taking the analogy and giving examples. The first one is Feedly. Alternatively, you can use Inshorts. 
What is Feedly? It is is news aggregator application. You will never miss any trending topic with this Chrome extension.
Feedly apps offer a daily dose of the latest news, information, and ads that keeps you updated with the outside world. 

On the one hand, you can read the news anywhere in your browser or mobile applications. 
On the other hand, you can also hare and save pages instantly to social networks. 

The Basic plan allows you to follow up to 100 sources and use the web, Android, and iOS apps

The Pro plan starts at $6/month and includes up to 1,000 sources, search, and third-party integrations 
Proofreading is a skill that content writers should learn to do in a proper way.
Unfortunately, it is very difficult than being said. This app is ideal for writers who want to rectify their mistakes quickly with the help of an online reader.
What you hear is always tells you what you have written and how you have written. 
The text-to-speech tool reads your chosen paragraph and it reads out loud. So, you can listen to it and correct the errors.
There are other features like volume adjustment and selecting between female and male voices while reading aloud. 
Tired of managing a lot of chrome extensions.
Where there is a problem, think for a digital solution.
Since we have a large number of extensions to add to our browsers, it becomes overwhelming to manage at once. 
In anticipation, One Click Extensions Manager stores all of your extensions into one tidy folder to avoid your browser being clogged up with extension icons.
Extensions really do provide an opportunity to become more productive, effective, and knowledgeable.
With this extension, you'll be able to quickly find, enable, disable or remove the extensions you want without the clutter.
It's time to wrap up. 
To conclude, no matter how good your grammar is, I will still recommend you to get Grammarly as it does an amazing job of fixing basic English Vinglish mistakes that are impossible to avoid.
For me, One Tab and Save to Pocket helped me in the content research process. Furthermore, if you focus on the work, then Quillbot & Wordtune is worth a try. 
Likewise, Chrome extensions like What font, Bitly, and Switchy help you to stand out from other content writers. 
Know of any such extensions that aren't mentioned in the blog? Leave them in the comments section below as sharing is caring. 
Thank you for reading the post and do check out my blog posts related to Content Tools by Content Lashmi here