Are you part of the Digital Deepak Internship Program?
Read what it takes to be the Top Intern of the Batch. A post based on experience.
Am I one of the Top Interns of the DDIP Batch 15?
1st Feb 2022 turned out to be the best day of the year so far. 
I enrolled myself in Batch 15 of the DDIP program in Aug'21.
The 12 weeks internship program with every week's assignments was fulfilling.
I made sure I submitted all the assignments by end of Dec'21.
10/12 assignments were completed within a week's time of the module release.  
I completed the DMAT (Digital Marketing Aptitude Test) in January'22.
The 90 min test was a truly exhilarating experience. It helped me to understand where I stand in terms of a complete understanding of Digital Marketing. 
Since then, it is a nail-biting moment for me.
After a long wait, the announcement came on 1st Feb'22.
I made it to one of the TOP Interns of the DDIP Batch of 15 of 500+ Interns.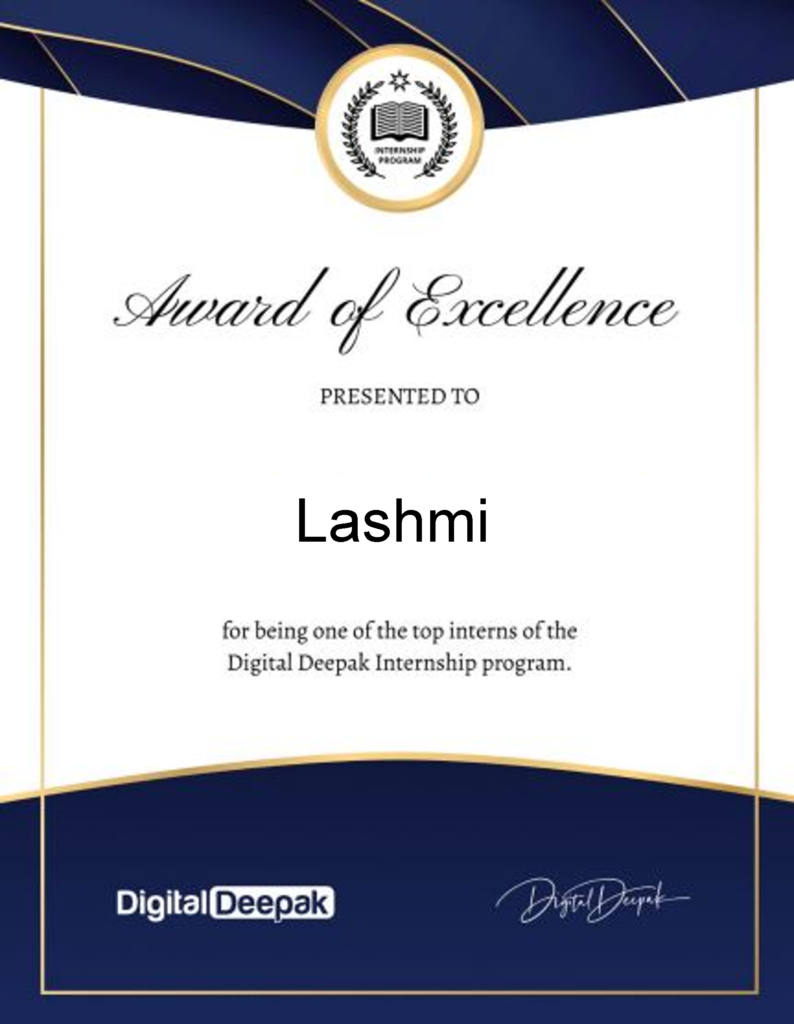 What is DDIP Program?
Before talking about the Top Interns, let's understand what is DDIP Program.
It is a 12-week rigorous internship program with cashback. The following listed modules are learned along with hands-on real-time execution.
When I say execution, it is in form of weekly assignments after every module. 
You heard me right. I not only learned the concepts but also implemented the same in real-time. 
Knowing is not enough in today's world, right?
Key Highlights of the Program
Learning and Doing is what makes the difference between the Dreamer and the Doer, right?
Right from creating this website, purchasing the domain & hosting account, knowing about SSL certificates, etc, must-use WordPress plugins, and a lot of details were covered in the program.
Right from understanding the customer funnel, creating the landing page, generating leads, creating various forms of content, building your tribe, you will also create Google and Facebook ads as well.
The CATT framework is one of the models you can find only in the DDIP program. It is created by
Digital Deepak.
Each and every part of the customer journey funnel has a set of tools to leverage.
Make use of technology to your advantage while adding your personal touch.
Email marketing automation is the future of marketing.
It is very important to nurture your cold leads constantly until they become warm and also continue to turn them into life-long customers.
The most important part I forgot to mention is, there are a few tasks that make you come out of your comfort zone.
I made my first webinar call, recorded a youtube video, created a landing page, did a consultation with a Fitness Coach for his personal brand, created a sales pitch.
I even took a test drive for a high-end car model.
Learning is a lifelong process, so I am planning to revisit the modules and go deeper into all the knowledge areas of digital marketing.
What you will learn in DDIP Program?
Below is the list of modules that are covered on weekly basis. 
Week 1 – Success Mindset
Week 2 – The Law of Marketing
Week 3 – Discovering Your Profitable Niche
Week 4 – Creating Your WordPress Blog
Week 5 – Becoming the King of Content
Week 6 – Building Your Tribe and Social Media
Week 7 – Lead Magnets and Lead Generation
Week 8 – Facebook Ads
Week 9 – Google Ads
Week 10 – SEO (Search Engine Optimization)
Week 11 – Email Marketing Automation
Week 12 – Sales and Conversion
The following were the bonus weeks covered:
Bonus Week 1 – Personal Branding 
Bonus Week 2 – Digital Freelancing
Bonus Week 3 – Digital Mentoring
Bonus Week 4 – Affiliate Marketing
How to prepare for the DMAT exam?
DMAT stands for

Digital Marketing Aptitude Test

.
It is a test conducted for the Students of the Digital Deepak Internship Training Program.
Title
Description

Test

Format

MCQs

No. of MCQs

100

Time Available

90 minutes

No Negative Marking

All questions are compulsory
One thing to remember is that this is not the real DMAT exam that you can find here. The real DMAT is very difficult and has much of reasoning types of questions. You can check about the Global DMAT exam here.
DMAT is a Competitive Exam conducted by DDIP Team, and the questions will cover everything taught in the Internship Program Videos and beyond.
It will test your practical understanding of the concepts of Digital Marketing.
Since it is a practical exam, questions will also be asked beyond the content covered in the 12 weeks.
Hence, it is recommended to do your own additional research on the topics covered in the 12 weeks, above and beyond those covered in the Internship Program.
Take the keywords taught in the program and do more research and gain knowledge.
More and more you learn many things, more and more you get clear about the concept. 
Put yourself as a customer when answering the questions. 
There is no specific passing mark for DMAT. 
However, It is compulsory to attempt DMAT to get certified from DDIP. 
How to become a Top Intern in DDIP?
In case you are wondering about how the Top Interns are identified?
Yes, You are right. 
There are many criteria and factors for deciding on the top interns.
Note that it is not specifically mentioned by the DDIP Team. But I will share my thoughts based on the experience.
Let's begin.
First, As long as you understand the concepts, apply the same in the tasks in completing all the 12 assignments.
Here, you have crossed 50% of the weightage in the selection factor. 
Moreover, you should complete all the assignments as required. You can show your creativity while doing the tasks.
Most importantly, complete before the deadline for all the assignments. Don't underestimate the assignments. It is neither too easy nor too difficult.
You need to do a lot of research while doing the tasks. Some of the topics were just covered at the top.
There are a lot of Digital Marketing tools that you will be getting your hands dirty.
You need to understand the how and why of the tools.
The entire process is designed in such a way that you become better both in "learnability",  "searchability" and "implementation".
Though there is no specific deadline for each week, I ensured I did complete all within a week's time.
Another 25% selection depends on the DMAT exam which is mandatory.
It is 90 mins test with 100 Questions.
Though there are no negative marks, there are various topics under which questions will be asked.
It is a multiple-choice question.
The remaining 25% is all about being yourself.
You need to establish a network with fellow interns, be supportive, not only demonstrate but also share knowledge.
Conclusion
To summarize, just go ahead with enrolling in the DDIP program and do well. 
Learn and understand each and every concept.
Research about the important keywords.
Get your hands dirty in all digital marketing tools.
Troubleshoot all your queries with fellow interns. 
Network and learn from fellow interns. 
Do all the assignments, not for just the sake of it. Do with due diligence. 
Be considerate and empathetic while networking with interns. 
Prepare for DMAT by going through the concepts again and again until you get a clear understanding. 
Do the DMAT with utmost confidence and take it as a good experience for your own judgment. 
Have a success mindset. The very first thing you will learn in the DDIP program. 
Then,  success is all yours. 
The difference between the ordinary and the extraordinary is that little "Extra". 
Time to give a pat on my back for all the hard work and enjoy a delicious treat myself.
Thank you for the time you invested in reading Top Intern in my DDIP Journey. Do read the DDIP Program review and I'm sure you won't regret it. It will be one of the best decisions in your life.