Do you believe in the words that "Marketing starts before creating the product?".
Yes, "True that marketing starts…with the CUSTOMER, his demographics, his needs & wants, his values.
It does not ask, "What do we want to sell?"
It asks, "What does the customer wants to buy?
As Peter Drucker said, "Business has only two basic functions — Marketing and Innovation".

Peter Drucker
Let's understand the below core concepts of marketing in today's digital world.
Fundamentals of Marketing — Market Better; Sell Better
Going Digital — Digital marketing vs. Traditional marketing
CATT Marketing Funnel — It all starts with your Niche
Integrated Digital Marketing — Secret sauce to Success
Building your Personal Branding — You are your own brand
MassTrust Blueprint — Stepping Stone to Accomplishment
Stay till the end for more interesting insights about Indian Economics and its impact on digital marketing strategy.
Fundamentals of Marketing:
It's a fundamental phenomenon to remember that "Customer is the King and Product is like the Crown".
A good product will sell itself at the end whereas marketing acts as an initial momentum to create a good perception about the product and in turn create the brand value.
One should never let marketing become more important than the product.
So, what is Marketing? Marketing is about sending the right message, to the right person, at the right time, through the right channel.
The four Ps of Marketing: Product, Price, Promotion, Place when blended properly gives the right pitch to the product.
Marketing is the art of getting people to change their minds about the product to take action and aids in building a strong brand value.
Then, what is not Marketing? 
Marketing is definitely not selling, neither advertising nor copywriting.
Of course, all these are key components integrated with Marketing.
If one understands this, they will be able to Market better and Sell better.
Sales are the oldest profession and only known way to earn whereas Marketing is the way to influence the consumer's buying decisions.
What differentiates Digital Marketing from Traditional Marketing?:
Everything is becoming online now.
How many times have you changed your mind to buy vegetables & groceries online rather than walk into the nearby store?. 
The Covid Era has made more and more businesses from happening globally digitalized just at the click of the button and swipe of a card. It's fewer Walk-Ins and more Online. 
Have you noticed the
1) An ad in the newspaper with a phone number to call?
2) Ads in YouTube, Google & Facebook related to your search needs
3) An email about the product/ service with CTA asking to fill the customer form
4) A sales page with a product with a link to buy the product.
This is called Direct response marketing campaigns that instantly connect with high-quality buyers and convert them to leads straight away.
The world is becoming more and more digitalized and automated which is obvious and pervasive, Isn't it?
What does it mean by "Going Digital?:
Digital means making use of online media in terms of paid ads, SEO, social media, Email & Content marketing etc. which enables you to reach the target audience globally and instantly.
You can connect with your audience in a two-way engagement.
Going Digital is cost-effective with ease of measuring the ROI.
What does it mean? Do you know every customer goes through the funnel journey of Awareness, Interest, Desire & Sales/Action?
Starting with being aware of your product to deciding to buy your product, you can track your customer's data points to build powerful predictions about human and consumer behavior.
Personalization is the real advantage of Going Digital.
Have you noticed the product once you searched in Google, you get digital ads of similar product suggestions with attractive discounts when you browse other sites later in time? (Typical display marketing).
As technology grows in terms of Artificial Intelligence, instead of you going to find clients, customers will reach out to you (This is called Inbound marketing).
The concept of virality is true in terms of digital marketing getting you instant publicity and branding for your business.
Digital is Everything, but Not Everything is Digital:
India is a country where 52% of Indian households do not have access to the internet yet.
Traditional (offline) marketing in terms of Regional Newspaper's (Print ads), TV ads, Catalogues, Flyers, telemarketing is hard to ignore.
It helps your brand to reach local audience as it is easy to understand for the rural population.
However, with the downside of limited customization, higher costs with less direct interaction with the prospective customers make the traditional marketing methods rigid and in turn does not provide instant real-time results, unlike Digital Marketing.
Hope you got aware of digital and traditional marketing now.
Have you heard of "CATT Marketing Funnel & Framework"?:
In the CATT Marketing funnel, building a strong brand is crucial.
This can be very well justified by saying People remember only the No.1–2. Or max 3–4 brands.
The moment I tell Shoe brand, you might be tempted to say Bata, Nike, Reebok, right? How many of you know Relaxo is also one of the footwear industries?
How to build a strong brand? As told by Digital Deepak, No 1 Digital Marketer in India — "Do not be the No. l. Be the only one.
Choose a category and become a leader in that category. Deciding where to compete is half your success.
If you cannot be a leader in a category, be a leader in a sub-category."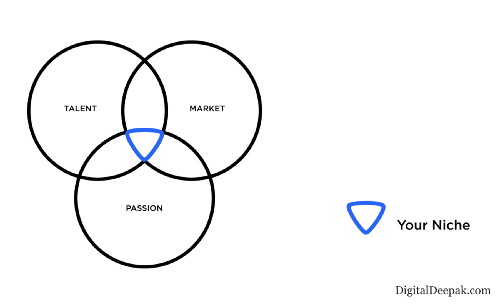 Take the Shoe Brands, Bata is known for comfy and light-weight trendy sandals whereas Nike & Adidas were established as Go-to sports shoes.
That's what they say build your brand working on your USP (Unique Selling Point).
A Unique Selling Point is a clear statement that describes the benefits you offer, how you might solve your customer's needs, and what distinguishes you from the competition. 
This is where "Niche" comes into power.
Let's deep dive into CATT Model: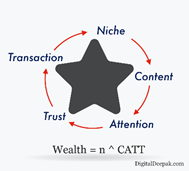 [C] Content: Create useful content that attracts people from your niche. Blog posts, videos, podcast etc.
[A] Attention: Drive attention (traffic) to your content using Paid Media (ads), Earned Media (social media sites / third party blogs).
[T] Trust: Build trust with your audience with trip wires, marketing automation and retargeting.
[T] Transaction: Convert your leads into customers with natural sales methods.
Diversity is always an asset in marketing and trust. 
Integrated digital marketing is the secret sauce as once adopted it helps to strengthen the brand personality, retain loyal customers, generate valuable leads, measure ROI, and eventually drive the success of your business.
To adopt a successful integrated Digital Marketing, one needs to create a strong Personal Brand through different mediums.
This strategy requires not just a holistic view of your business, but also a set of strong, versatile skills arranging from creative design, social media, SEO, SEM, email marketing to data interpretation — things that we need to do for building our strong Personal Brand.
In simple words, a single language to speak in different forums.
Don't Hold Back Your Personal Branding:
People want to hear from people, not from brands. Personal branding is not about being just online. It's about "Your identity". 
I cannot stress enough saying "You are your own brand". 
"It's about putting out stamp on the value you deliver to others"

William Arruda, Personal Branding Guru.
Have you heard of MassTrust Blueprint?:
I strongly believe that one should not "Focus ongoing 0 to 100…Focus ongoing 0 to 10. Then 10 to 20. Then 20 to 30…And so on and so on until you get to 100".
Learn: Learn a new skill through Concepts, Facts, and Procedures. Understand the concepts. Remember the facts and practice the Procedures.
Work: Put your newfound skills to work. Go from practice to implementation. Implementing it in the real world will give you a better understanding. (Work = Job / Freelancing / Own Projects)
Blog: Write about what you have learned and experienced through your work. When you write, you understand it better, but you will also start building your personal brand.
Consult: Now that you have a personal brand through your blog, have work experience, and have learned the fundamentals, start consulting other businesses instead of working for them.
Mentor: Mentor others who want to become like you. Mentoring will help you scale your understanding to a whole new level.
Start-up: Start your own product or service business with the understanding that you have developed about the market, the problem and your own skills.
Where Indian Economics and Digital Marketing are Headed in the Next Two Years?:
With over 560 million internet users, India is the second largest online market in the world. Internet penetration rate in the country is expected to hit a high of 68% by 2023.
Digital marketing is going to a long way in improving the country's economy by 2023 and India is one of the world's fastest-growing trillion-dollar economies.
The youth population in the country is of the highest ratio making up to almost 34% of the entire population.
Besides the urban population and youngsters being digitally active, the older population, as well as those from the villages and towns, are going digital.
Additionally, Economic factors like earning capacity, personal savings, investment spending, and the rate of production in an economy are key factors in deciding consumer spending.
Therefore, it is very essential to understand the correlation between Indian economics and market segmentation which will help to decide the right digital marketing strategies and also to scale up the business in the right direction.
That's a wrap 
Starting from the fundamental laws of marketing, we went ahead to learn difference between the Traditional and Digital Marketing.
Later, we deep dived into Niche selection and building your personal branding.
We touch based upon CATT Marketing Funnel & Framework.
Later, we understood what is Integrated Digital Marketing and how it helps in building your Personal Brand with detailed steps.
Last but not the least, we learned a new Blueprint called MassTrust Blueprint.
Finally, we realized the importance of understanding Economics which will help you to understand the market segmentation to scale up your business via Digital Marketing.
Hope you enjoyed that quick knowledge snack 
Stay tuned for much more valuable content on Digital Marketing and its Trends in the upcoming posts.
If you like the content, please give your like, which will motivate me to share such articles in the future.