Understanding the types of digital marketing is the foremost step for any business.
True success lies in Integrated Digital Marketing. There are 10 major types of Digital Marketing.
I explained it in simple terms for beginners. If you haven't heard them, time to learn.
This pandemic has helped companies re-establish themselves using Digital Marketing and survive.
---
Types of Digital Marketing
The top 5 marketing types for the year 2022 is covered here. 
Search engine optimization (SEO)

Search Advertising (PPC)

Social media Marketing

Content Marketing

Email Marketing
---
SEO (search engine optimization)
SEO Introduction
Everyone wants to be on the first page, right?. Google also wants to provide quality results to its users.
So the first type of digital marketing we are going to see is SEO. 
SEO is the process of improving the quality and quantity of traffic to a website or a web page from search engines.
SEO targets unpaid traffic rather than paid traffic (PPC Ads). It

simply

optimizes for search engines and is Free.
It helps to increase the organic discovery of your site.

It generates more quality leads.

It offers ROI by reaching more people if done right.

It improves credibility and trust.

It helps in customer retention and acquisition.

It makes your brand authentic in the eyes of the customer.

It enhances the user experience.

Most important, it doesn't cost you anything.
The first step in Organic SEO must begin with keyword research.

Do some keyword research to find what people are searching for.

Next is to get the content strategy in place.

Understanding the google algorithms which is ranking your page will help in SEO.

Understand how search engines read what your site content is by site indexing.

By formatting links, URLs ad sitemaps, you can make your site crawl at ease.

Have effective On-page and Off-page SEO strategies. 

Having an effective SEO strategy helps in brand marketing.
Recommended Read: Check out the Off Page SEO post by ignitevisibility which talks about off-page Seo, link-building for off-page Seo, unlinked mentions, guest blogging and many more.
Common Tools related to SEO
AHRFS and Ubsersuggest for SEO Keyword research tool

Google Search Console for Indexing

All in All SEO Plugins & Yoast SEO plugins for WordPress

SEMRush for Marketing SEO

Google Analytics for SEO Data insights

Google Page Speed insights for website speed test

Google

Mobile-Friendly

testing tool for SEO
Disadvantages of SEO
It is very time-consuming as you are competing with billions of pages. 

Getting the right SEO strategy is very difficult as Google has more than 200 factors in its algorithms for ranking. 

It isn't guaranteed for sure. 

You are reaching more audiences rather than the target audience. 

Your actions can be penalized if you got them wrong. 
---
Search Advertising or Search Engine Marketing
SEM Introduction
I'm sure you would never miss the ad popping on google. It is also called Pay-per-click advertising (PPC ads).
In search ads, the advertiser pays only when someone clicks on their ad.
It works on keyword research.

It plays an important role in sales, customer retention, and acquisition.

Bigger companies spend a huge amount of money on paid ads to get ahead.

Freelancers help brands to set up ads campaigns and track conversions.
Have you noticed the word "Ad" in the google search engine?
It looks like a natural search but it appears on top of the page with a small box containing the word "Ad". Those search results

are called

search advertising or PPC.
It is an act of using paid strategies instead of organic to increase search visibility.
It helps you

quickly

buy you the top ranking and be at top of the Google SERP.

You only pay per click so it is cost-effective.

You can control the cost by promoting the paid ad campaigns to specific users based on location, keywords

.

You can reach your target audience

instantly

.

Increase traffic by ad visibility.

Ads can

be placed

in Google search engine or Youtube ads or the ads on website pages.

Very effective and proven digital marketing strategy.

Conversions are higher and quality is good.
You first identify the keywords for which you want your ad to display.

Segment the broad match, phrase match, exact match keywords.

Identify the negative keywords – for which you don't want your ad to display. This will help to control the cost.

Identify the specific goal in mind to create a paid campaign. It means both SEO and SEM go hand in hand.

Identify the target audience

in terms of

persona.

Decide the variables like budget, ads format, bidding strategy, conversions type, etc.

Based on the budget, CPC

is determined

.

Create targetted ad groups.

Through bidding on keywords, your ad appears in relevant searches.

If the user clicks on your ad link in the search engine, then you will

be charged

.

Track your ads on daily basis and optimize.

The funnel for SEM is Visitors > Leads > Sales Page > Buyers
Common Tools related to SEM
Google ads are the most used for SEM being the most

commonly

used platform.

Google Autosuggest, Ahrefs, Google Keyword planner are

commonly

used for keyword research.

Google allows 4 different types of campaigns – Search, Display, Video, and App campaigns.
Disadvantages of SEM
Cost is based on cost per click and not cost per lead. 

More the ad budget, more the returns as only 2 to 5% of the leads will turn into sales. 

Not viable short-term strategy. 

Your product return value should be more total ad cost by 2 to 3 times. 

PPC is more affordable for certain eCommerce industries. 
---
How many social media apps have you installed in your apps? Facebook, Whatsapp, Instagram, Twitter, Linkedin, Pinterest, Youtube, and a lot more.
An average of 5 to 8 apps

are used by

a common man. Around 2.5 hrs spent on average per person per day.
Any promotion of a product, brand, or content via social media platforms

is called

Social Media Marketing

.
It is not just creating posts for social media and responding to comments.
It is about getting validation from the target audience.
Social media marketing is more inclined to specific target audiences rather than keywords.
It is a direct communication channel with your audience.

You get instant traffic & validation from the audience. 90% are users of at least one of the social media platforms.

It's easy to engage, entice the audience using content curation ideas.

You can

easily

promote the products and build testimonials.

Like Search engines, marketing can

be done

via social media.

It can

be done

organically

or paid ads or both.

Various formats like video ads, images ads, gallery ads, stories can

be made

.
Understand the purpose of each social media platform.

Choose the strategy based on your product or service or content.
Sites like FB collect data about likes and interests along with age, location, etc.

Sites like Linkedin have details about the audience's professional life.

Use Instagram for age 20 to 29 and 30+ for Linkedin & Facebook.
Then start creating content according to the platform.

Just

like a chameleon, you need to create different formats of content for different social media

.

Use data analytics to find the potential reach of your product/content.

Use paid ads to entice users to like your page, follow you and drive traffic to your site.

You may trigger a sales conversion as well as Paid Ads Marketing is the best strategy for social media marketing. 

Use social media automation for

frequently

creating. It helps to publish the content to all platforms simultaneously.

Use analytics for analysis of which platform works best.
Common Tools related to SMM
All the Social media platforms. 

Google Analytics for tracking the new users, page/sessions, bounce rate, CPC, etc.

Social Media Automation tools like Hootsuite, Buffer.
A lot of consistent and coordinated effort

is required

.
SMM should be the only strategy and integrated with other marketing.
It is a lot more complicated than managing your personal social media accounts.
It needs to keep your audience always updated and monitored all the time.
The conversion of sales

is limited

until using Paid ads. It is a medium for engaging traffic, enticing your audience & promoting your brand.
---
Everyone likes storytelling right. The power of personal branding can

be done

right with content.
Everyone wants free information. Educators, Entertainers, and Creators are going to rule the world.
Content marketing is one such form. Rich and quality content is the backbone of any website.
The ultimate goal is to have the audience take action on your site. For example, becoming a customer by signing up or making a purchase.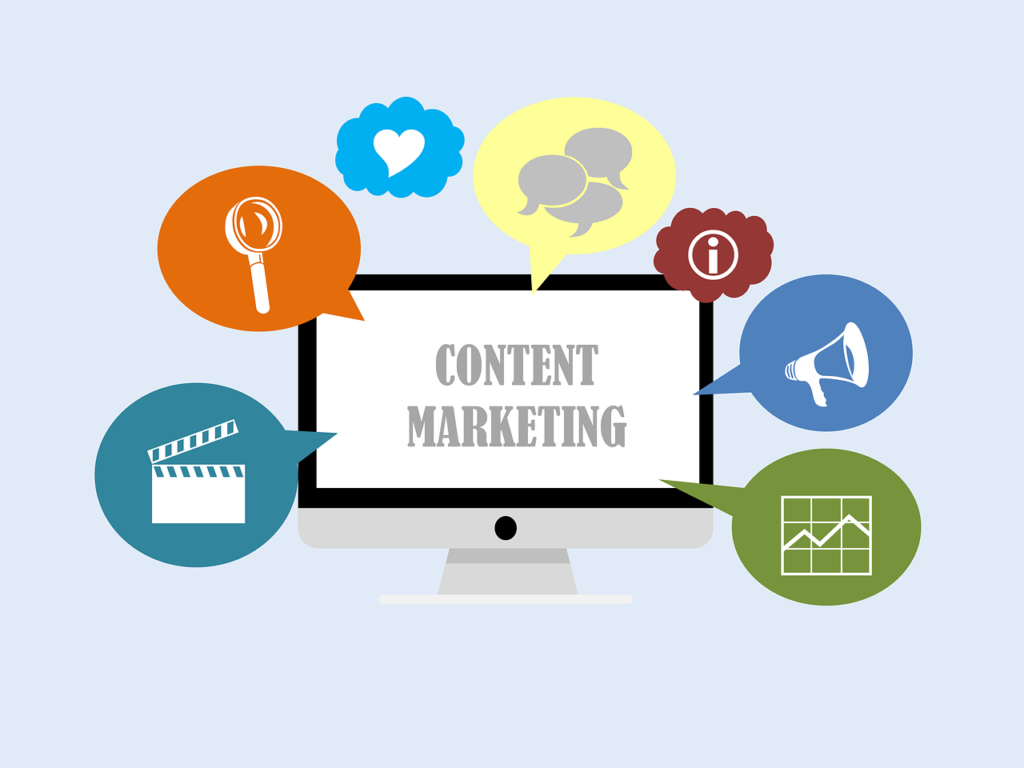 Content Marketing Definition
It is the process of creating, publishing, and distributing content online.

You need to incorporate SEO in your content and then share it on social media platforms.

If you are a B2B business, the content can be like white papers, books, educational videos, webinars, etc.

If you are in the B2C business, then the content can be blogs, articles, social media content, etc.

Content marketing works like this: Awareness > Interest > Desire > Action
Advantages of Content Marketing
It is very much free in cost, unlike the PPC model.

Content can be of any kind such as blogs, videos, images, multimedia, etc for promotion purposes.

It is the resource of information about your brand and the product which will entice the audience

.

Good content helps in SEO ranking.

Content marketing strategy helps you to be in the front end.

To educate, entertain and inspire, content is the king.

Content plays a major role in all other types of marketing.
How Content Marketing works
Go Niche – The world is very big. No one wants to hear someone who has an opinion about anything.

Identify the audience – Create content based on your target audience.

Decide the format of content

Finalize

the platform/channels 

Distribute the content

Analyze the performance of the content

Create trending content with hashtags – Use a Content calendar for planning

Go and keep on building your content empire.
Common Tools related to Content Writing
Answer the public – For content ideas
Hemingway Editor – For readable content
Copyscape – Plagiarism checker
Grammarly

– For Grammer check
Cohschedule – Headline Analyzer
Yoast SEO – For SEO analysis
Google Doc – For content storage
Buzzsumo – For content research
Keyword planner – For Keyword research
Notion – For content notes
Canva – For Multimedia content
One Look Reverse Dictionary
Common Tools related to Content Marketing
Content Management System (CMS) – WordPress, Blogger, Hubspot, Google Docs
Ahrefs & Google analytics for Analysis
Asana – Content Calendar & Tasks mgmt Tool
Disadvantages of Content Marketing
It is very hard to stand out as billions of content are being published online.
Good and high-quality content wins the game.
---
Introduction
With a pandemic, how many times have you kept scrolling your mailbox?
I'm sure you would have subscribed to many newsletters. People are spending more time on their mobiles and Tablets.
Yes, email marketing is the direct form of marketing that delivers content-based emails to the audience

.
It is the most powerful medium now.

The use of email in marketing efforts to promote a business's products and services.

Though old school method, it helps to build and keep relationships.

Establish direct connections with your current and lapsed customers.

Imagine, FB

is closed

like Tiktok, you still have the contacts.
Email Marketing Definition
A process of engaging and enticing the audience via emails

is called

Email marketing. Examples of email marketing are
The customer subscribes to your blog

Subscribes to your newsletter

Subscribes to 100-day Learning course

Sending emails about the offers, promotions, etc.
Advantages of Email Marketing
One of the easiest ways to connect with your prospects and customers. Cost-effective. 

One of the effective marketing where you can show personalization. 

Having an email list means you have a list of warm leads. More chance for conversion. 

Warm leads are those interested in your content and aware of your brand. 

It helps to build relationships to keep your leads warm with fruitful content. 

One of the most vital marketing to steer your audience to your brand or site.

Scalable and shareable. 

It helps you to remarket your leads and convert them for sales.
How Email Marketing Works
Collect and Store the Email lists of your leads in a database.

Segment the leads based on their interests, needs, and wants. 

Decide on the email marketing medium. There are various tools.

Have an eye-catchy subject for good open rates.

Create personalized emails. 

Do A/B testing. 

Start sending to show in your audience mailbox. Don't bombard with emails every day. Give valuable content.

You can create an automation sequence to send emails.

Use analytic tools to review the open rates, click rates, etc

It boosts branding, the website traffic and

eventually

helps in sales.
Common Tools related to Email Writing
Convertkit, Mailchimp, getresponse, Zoho – to create a sequence and automation mails.

Landing Pages – Leadpages, Instapage, Convertkit, Mailchimp, Unbounce

Zapier to integrate your WordPress and email marketing tool
Disadvantages of Email Marketing
If the audience's mood is not well, people will unsubscribe from your mailing list.

If you are adding value, they will stick to you. Else, they will unsubscribe. 

Mails may get delivered to spam. 

If the email is not designed with a proper layout, the user will get disinterested. 
Thank you for the time you invested in reading this article. As a reader, If you like this post, do share your comments on which is your favorite marketing. 
For more related posts, check here "Digital Marketing". Please subscribe to my blog for more interesting in-depth content.